About Our Professional Water Heater Technicians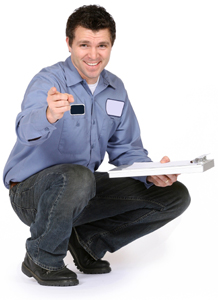 At WaterHeatersForLess.com, we have a skilled, highly trained, and courteous staff that know what it takes to get the job done right. We strive to provide the best possible value to you, and believe that satisfied customers are the key to our success. We offer a full range of supplies and services that are customized and tailored to fit your specific water heater needs. Using both age-old techniques and modern methods, our careful craftsmanship and quality products are second to none.
What is Up Front Pricing?
Avoid "Sticker Shock" by knowing what the job will cost in advance!
You should never have to pay the price for slow or inefficient service. However, that's exactly what tends to happen when you pay water heater technicians by the hour instead of by the job. Since, we charge by the job you never have to pay for slow or lazy technicians or for run-around time looking for parts and equipment. Thus, it's in our best interest to work as efficiently as possible, so we make sure our trucks are well stocked, and we train our technicians to do the job efficiently and correctly the first time.
If you like what you read about us and are looking for a water heater replacement or repair company in the Dallas metro area, then please call us today at 972-509-0224 or complete our online request form